The foreign Ministry of Ukraine outraged by another searches and detentions in the occupied Crimea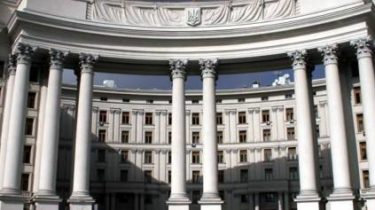 The Ministry of foreign Affairs of Ukraine expresses its decisive protest in connection with the next wave of unfounded searches and illegal detention of Ukrainian citizens by the Russian occupation authorities in the town of Bakhchisaray (Crimea, Ukraine).
This is stated on the website of the Ministry of foreign Affairs.
The results of the searches were illegally detained six people, in addition at least nine activists were arrested only because they came to support fellow countrymen and were near the locations of the searches.
See also:
Poroshenko said the offer to sell Crimea for Russian oil with Churchill
Videosb staged hunt in the town of Bakhchisarai on the activists of the Crimean Tatar movement
TSN. 19:30
Yesterday, 20:17
Facebook

VKontakte

Google+

Twitter

Viber
"The offensive of the invaders against those who are against the occupation regime, in particular the activists of the Crimean Tatar and Ukrainians, once again indicating the continuation of Russia's repressive policies in order to eradicate any dissent and intimidate the population of the Crimean Peninsula", – said the Ukrainian diplomats.
Targeted searches in the homes of Muslims testify about the persecution on religious grounds.
Repression, arbitrary detention, enforced disappearances, abductions, torture and other violations of fundamental rights and freedoms of a person to become a common practice of the Russian occupation authorities in Crimea and Sevastopol. Russia continues to brazenly and cynically violating its international legal obligations, resolution of the UN General Assembly 68/262 of 27 March 2014 "Territorial integrity of Ukraine" and 71/205 from 19 December 2016 "the Situation with human rights in the Autonomous Republic of Crimea and city of Sevastopol (Ukraine)", the order of the International court of justice regarding the application of preventive measures under the claim of Ukraine against the Russian Federation concerning application of the International Convention on the elimination of all forms of racial discrimination.
"We call on the international community to actively advocate to protect the rights and freedoms of citizens of the Crimean Peninsula and force Russia to stop criminal violence against those who disagree with the occupation," according to Ukrainian diplomats.
As you know, the occupiers regularly conduct searches and detention of the Crimean Tatars, who oppose annexation of the Peninsula. So, in early October, they came with searches, which arrested four Crimean Tatars.
Comments
comments