The revival of second hand: Ukrainians return the fashion for second-hand goods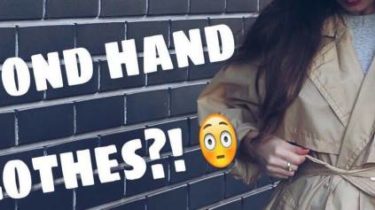 Ukrainians no longer ashamed to buy things second hand, wear them, sell the old ones on the online flea markets or share such things. One so save, others save the planet from overproduction, says the story TSN.19:30.
Elena from Kiev – a frequenter of all sorts of flea markets and second-hand stores, where looking for interesting and unique things. Eating used, it saves nature and saves. "Now is the overproduction of all, people buy something, wear it one day or does not wear, and then discarded. Spending on it labor resources," she says.
Videolatinabest or the salvation of the world: Ukrainians are increasingly buying clothes on the online flea markets
TSN. 19:30
Yesterday, 21:00
Facebook

VKontakte

Google+

Twitter

Viber
Showman Alexander can dress in the expensive stores, but also by second-hand will not work. "I bought jeans. Ten people asking where you got them. To reveal that they cost 120 hryvnias – I didn't do it, of course. They were brand new," he admits.
See also:
From jeans iz second-hand znajshli 100 Euro the first sheet s Nimechchini
Now replace the second-hand come online flea market – sell and buy used through the Internet is becoming more popular. Ukrainians realized that the used stuff is not only normal, but beneficial, because you can sometimes buy brand new, but much cheaper. Only in the past year, the number of orders used children's clothes in Kiev has increased several times.
See also:
In Ukraine in recent years, the demand for second hand has doubled
The owner of the online store for used children's clothes from Kiev Natalia sells clothing their children and the children of friends and acquaintances. Happy buys itself, after all, used things is the best way to save money. "The average cost of things – somewhere 60-80 hryvnia, warm – 100 UAH. Jackets and 200 grivnas you can cost," she said. The same things, but new, in shops cost several times more expensive.
See also:
Ukrainians oberen cargoway wagged deputati, sukriti second-Hendi
Even used items are subject to tax: 18% income tax and 1.5% military tax. But almost all online sellers not to pay, experts say. If in the future the tax authorities will take the online vendors, the prices can grow, but keep track of online shopping is not easy, as the goods passed from hand to hand and without checks. And those who sells also those who buys and swaps – are sure what to buy b/y will be even greater because the Ukrainians are learning to spend more on travel or training, than the imaginary luxury.
The TSN reporter Ivan Vorobyov
Comments
comments