A lifetime ban from attending matches: Birch after clashes with fans of Dnipro talking about "hard answer"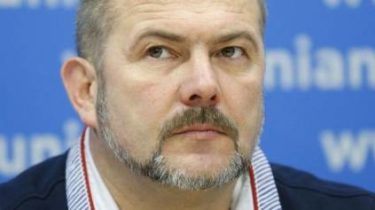 Honorary President of the SC "Dnepr-1" Yuri Birch commented on a fight that occurred in the sector of fans in the stadium "Dnepr-arena" during the match with Dnipro.
See also:
Fans of "Metalist 1925" broke the final of the Amateur championship of Ukraine
"Unfortunately, during the break, I don't know who didn't work, but such a situation has arisen that some rubbish, sweeping in its path of be their feet, burst into the sector where the fans of SC "Dnepr-1". And today we played away, and our fans were compactly planted. And I don't know what to call it. These people ripped off the last match of FC Dnipro in the Premier League against Volyn. And then they threw firecrackers and smoke bombs onto the field for the players, including the players "Dnepr", and now it also happened. I don't know how it's qualified, but because of what is happening, the stadium needs to return law enforcement authorities", – he concluded.
Yuriy Bereza: No – hooligans in the stadiums Honorary President of the SC "Dnepr-1" Yuri Birch commented on the results of the match FR…
Posted by Sports Club "Dnepr-1" on Wednesday, October 11, 2017
According to him, the game came 700 children from rural schools in Dnipropetrovsk region.
"And why am I not departed and will not depart ever in these situations, it is Weill and beats the child with the feet," he said.
The MP stressed that the us is preparing hard response after the collision.
"I think that soon there will be a meeting of the FFU and PFL. Football hooligans should not interfere and watch the beautiful ordinary football fans. That's right, and I am convinced. And believe me, I'll do as a legislator, so the answer was hard enough. Those who come not to hurt, but to fight in the stadium – they have no place in sports arenas," said Birch.
He appealed to the President of the FFU and the people's Deputy Andriy Pavelko on the necessity of the law, which will relate to the order in the stadiums.
"Remember how behaved fans of "Karpaty" in Ivano-Frankivsk? And no reaction! And it should be hard. Do not exclude, that there should be proposals, for example: a lifetime ban from attending matches. Otherwise, we will not establish a new football ideology," he said.
Videosdeputas Birch after a fight at the stadium testified to the police officers and went to doctors
TSN. Wounds
Today, 08:25
Facebook

VKontakte

1

Google+

Twitter

1

Viber
11 Oct Birch was the center of opposition football fans at the stadium "Dnepr-arena". After the match, in the fan sector there was a clash: fans of "Dnipro" tried to take banners and a drum from his opponents, the fans of SC "Dnepr-1", then the nuts went and the people's choice.
Comments
comments