Militants organize provocations and hinder the work of the OSCE observers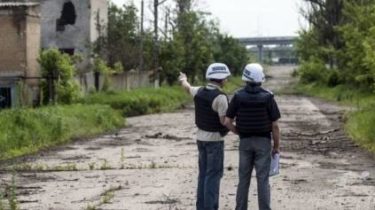 The militants of the ORDO suit armed provocations on the contact line of the parties and interfere in the patrols of the OSCE SMM.
This was reported in the press center of staff ATO.
"Yesterday, 11th October 2017 according to the plan of the OSCE SMM has implemented measures crossing patrols of the Mission of the division line on the road M-03 Svetlodarsk-Debaltsevo. During the nomination of "zero" roadblock to the middle "gray area" about 14.20-14.30 representatives of the Ukrainian side of the JCCC, who is in the group that was nominated and those who remained at "zero" checkpoint, heard gunfire from the village of Lozova, which is controlled by the NFP ORDO, in the direction of the village Lugansk", – stated in the message.
Moreover, it is noted that after the simultaneous start of the mirror convergence, the group that were offered by the Government-controlled areas, reached the middle of the "gray zone" and for a further 20-25 minutes to the expected arrival of the corresponding group from the territory of the ORDO.
"The Ukrainian side of the JCCC condemns such provocative actions of the IAF ORDO, which are systemic in nature and suggests that the leadership of the ORDO cynically neglects Minsk agreements and deliberately seeks further escalation of the armed conflict in the Donbass," – said in the headquarters.
Recall, October 6, the Verkhovna Rada voted for the bills that define the future of the occupied part. So, adopted in the first reading a presidential bill on the peculiarities of the state policy on ensuring state sovereignty of Ukraine on the temporarily occupied territories in the Donetsk and Lugansk regions (No. 7163). Also Pleased to extend the special status of the bill OGLO 7164 "On creation of necessary conditions for the peaceful settlement of the situation in certain districts of Donetsk and Lugansk regions".
Comments
comments