Hungary will support Ukraine. Szijjártó after a conversation with Klimkin changed your view about the education law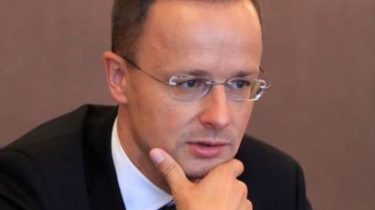 Ukraine and Hungary have different approaches regarding the law of Ukraine "On education". This was stated by Minister of foreign Affairs of Hungary Szijjártó It after a meeting in Budapest with Ukrainian foreign Minister Pavel Klimkin, reports Radio Liberty.
See also:
The "law on education": Klimkin at the meeting with Szijjártó said on political manipulati of the Russian Federation and Ukraine is ready for dialogue
According to him, Transcarpathian Hungarians are quite different see the status of education reform than the Ukrainian government.
He added that the aim of Hungary is not a war of statements or exchange sarcastic comments, but reaching such agreements, according to which the Ukrainian Hungarians will have the same linguistic and educational rights as before the enactment of the new law on education.
The Minister said that while the Hungarian community in Ukraine does not recognize that happy state of Affairs, Hungary does not reverse its decision on the unwillingness to support important initiatives at the international level.
According to Szijjártó, consultations with the Ukrainian side can be effective only if in Kiev will reconsider at the legislative level, the seventh article of the education law that "infringes" cultural and educational rights of national minorities in Ukraine.
Recall, September 5 during a meeting of the Rada adopted the law of Ukraine "On education", which introduced the 12-year secondary education. The language of instruction in educational institutions determined by the state. The document envisages that the institutions can give one or more courses two or more languages – the state language, English and also in other official languages of the European Union. Persons who belong to indigenous peoples and national minorities of Ukraine is guaranteed the right to education in their native language along with the Ukrainian language in public institutions of preschool and General secondary education.
Romania and Hungary, criticized the adopted law on education, believing that it violates the rights of national minorities in Ukraine. The Minister of foreign Affairs of Hungary Peter Siyarto Zaya
In December it is expected the opinion of the Venice Commission regarding the law of Ukraine "On education".
Comments
comments