A protest near the Parliament activists are cleaned and waiting for a positive vote in Parliament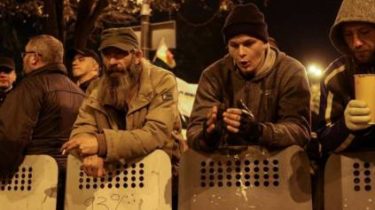 Night near the Verkhovna Rada on the street Grushevskogo was calm, the protesters say.
This is stated in the story TSN. Ranok.
See also:
Nye said that Poroshenko refused to meet with representatives of the protesters
In the morning, the activists removed the tent city and waiting for a vote in Parliament of two bills regarding the removal of immunity of deputies and on amendments to the electoral legislation. The establishment of the anticorruption court on the agenda yet, so the deputies are waiting for the President's bill.
Activists say they will let the Parliament freely to all MPs, but will not release in the event of a negative vote.
We will remind, on October 17, in Kiev representatives of different political parties protest outside the Verkhovna Rada for political reforms. The government quarter was blocked by police officers, between them and the demonstrators from time to time there were skirmishes.
Protesters demand changes to election law, removal of parliamentary immunity and the creation of an anti-corruption court. In the evening, the demonstrators dispersed, but near the Verkhovna Rada left the tent with the "organizing Committee" meeting.
Organizers of meeting declare that their action was successful , and we encourage our supporters to continue its Thursday, October 19.
Comments
comments