Because of the riots near the Verkhovna Rada detained eight activists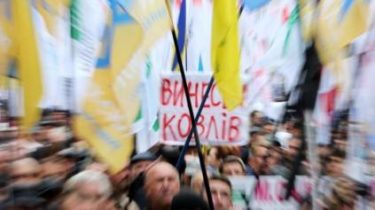 As a result of brief clashes near the tent camp, under the Verkhovna Rada detained eight activists. The correspondent reports about it TCH with the event.
As stated by MP, one of the active participants of the protest Semyon Semenchenko, who tried to prevent the departure of paddy wagons with the detainees from the scene, now he will go to the district police station to rescue the detainees.
We will remind, according to the protesters, the police went into one of the tents in their town and tried to take the property. Because of this, riots broke out using sticks and tear gas.
Recall, 17 July in Kiev representatives of different political parties protest outside the Verkhovna Rada for political reforms. The government quarter was blocked by police officers, between them and the demonstrators from time to time there were skirmishes.
Protesters demand changes to election law, removal of parliamentary immunity and the creation of an anti-corruption court. In the evening, the demonstrators dispersed, but near the Verkhovna Rada left the tent with the "organizing Committee" meeting.
Organizers of meeting declare that their action was successful , and we encourage our supporters to continue its Thursday, October 19.
The correspondent TSN Alexander Romanyuk
Comments
comments