On the implementation of health reform will take several years of hard work.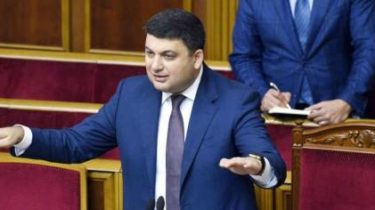 The introduction of health reforms the Ukrainians will receive quality services in health and live longer than we do now. This was stated by Prime Minister Vladimir Groisman in the air of TSN.19:30.
"We were late for exactly 26 years to begin the formation of a quality health system. Across the country, not a perfect system, 97% of people pay for medicine and get enough low quality, and doctors are forced to find outside income. This is unacceptable, and the law which we have adopted, allows you to change the funding system. Now Finance we will not the walls of hospitals and not an empty bed. We will Fund a particular medical service. The man wanted to do an MRI, he needs 800 hryvnia – he'll do an MRI, and the state for this MRI will pay. It is an effective payment for all services that are needed at primary and secondary level. That is, we increase the efficiency of use of funds and send the funds in the life and health of people. Moreover, these funds will be where the person chooses the institution, and the institution must comply with quality criteria," he said.
Videolady feel the change in the Ukrainian medicine in a few years, – Vladimir Groisman
TSN. 19:30
Yesterday, 20:30
Facebook

VKontakte

Google+

Twitter

Viber
According to the Prime Minister, to achieve the result we need a long and hard work. "I am an absolute realist: so health care running, we will need a few years of serious hard work. And I'm willing to take responsibility, to unite people, is now a working group on the implementation of this reform. It will be inclusive, and we will be very carefully and seriously to implement these changes. We need to get a quality service for Ukrainian citizens, and hospitals should become such that there are consumables, normal equipment, which is the normal attitude of the people," – said the head of government.
See also:
Medical reform. What changes members have made to the law and how it will work
Groisman believes that to feel the first success of health reform, Ukrainians will be able in a few years. "I think that fundamentally, in a few years we can see first successes. But this does not mean that we will wait two years. We have already launched free medicine for the Ukrainian citizens 6.7 million prescriptions are already written for today, free drugs! We will build this year 13 new cardiac centres who have heart problems – this will be decided. We will finish the construction of "Okhmatdet". We will expand the list of free medicines. That is, we show that in fact the situation is changing," he says.
In support of the said head of the Cabinet recalled that his previous initiatives – decentralization, pension and educational reforms were also criticized and feared. However, despite the predictions of skeptics, no trouble has not occurred. "Spread the horrors of those who are satisfied in health care and the state. When I hear some politicians start to say that all is lost, I remember what they said a year or two, and five years ago. This is nonsense, hospitals will not be less. Today, a law was passed in the first reading on support of rural medicine – it is necessary to restore order", – assured the Prime Minister.
See also:
The Cabinet creates stargroup to monitor the implementation of health reform
"We will pay 100% for medical services. Do not have anything to withdraw. It's completely fine. We eventually all did what we had to do 26 years ago. Now we are going to implement it, and people will feel change. I'm just warning you: they will not be quick", – summed up Groisman.
Comments
comments