"We will come. Soon." Scattered over the Donetsk Ukrainian postcards, fighters radrails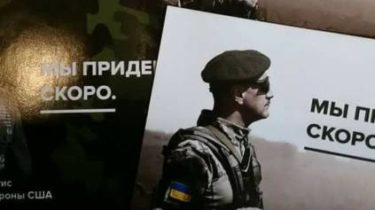 18 Oct Ukrainian UAV dropped leaflets over Donetsk, where militants have warned that soon they will come for the Ukrainian army.
This was reported in the Facebook volunteer Liliya Kravchenko.
See also:
Pushilin resigned from the steering post to the main "party" militants "DNR", it was replaced by the Director of the theatre
"The flyers called a nervous TIC separatists that showed Donetsk sepanski channel "hold". "Hold" refers to the place where they found leaflets – the town of Mineral. But what a nuisance: reset was around SBU and to the Mineral at all desire could not make it," she zaznaczenie.
Yesterday afternoon our UAV dropped leaflets over Donetsk. The leaflets caused a nervous TIC separable, as demonstrated…
Posted by Lily the Owl on Thursday, October 19, 2017
Earlier, the coordinator of "Information resistance" Dmitry Tymchuk reported that in Donetsk, Horlivka, Yenakiyevo and Makeyevka guide "MGB DNR" put forward strict requirements to the staff on search of members of the Ukrainian underground, which distributed leaflets Pro-Ukrainian content.
Comments
comments