The guy kidnapper of the baby was released because he allegedly was not in collusion with the girl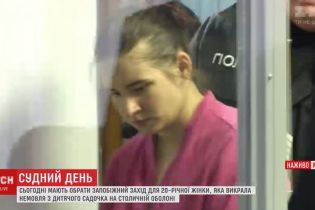 The young man Dianne Shawl, which is suspected in the abduction of a child from under the door of the kindergarten, today was released, it to criminal liability unless they can attract, the correspondent of TSN.
He, for whatever reasons, what is now, was not in collusion with the girl and the kidnapped child really took over her.
See also:
The echo of the abduction of the baby: Kuleba reminded Ukrainians how to protect themselves from the theft of a child
Meanwhile, Obolon court of Kyiv elects a measure of restraint most 20-year-old suspect. The prosecution will ask for her round-the-clock house arrest with mandatory wearing of the bracelet. The kidnapping of the baby girl was probably ready, but how long investigators can't say yet. Kidnapped child it is for myself to pass off as your own. The girl allegedly had a baby from my boyfriend, and he, allegedly, wanted to see the baby with my own eyes.
"This baby was supposed to pass for her, since her child died immediately after birth. At this time, the specified version is checked as to whether they give birth and what was the length of time necessary judicial examination, which will be appointed after consideration of the petition in court today", – said the representative of the charges Vladimir Gorbanovsky.
In addition to forensic medical examination in respect of her alleged birth, the girl will also appoint a psychiatric examination.
We will remind, last Friday, the father of the baby arrived in the back garden, the elder daughter, went up to the group and the youngest child left in a stroller on the ground floor. The abduction was recorded by surveillance cameras, of a child found less than a day near Kiev. 20-the summer guy and the girl was detained on suspicion of kidnapping a minor child.
The correspondent TSN Valentine Goodness
Comments
comments