The candidate in presidents of the Russian Federation, Sobchak voiced its position on Crimea and Ukraine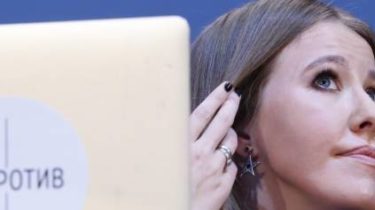 Russian TV presenter Ksenia Sobchak, who declared that intends to stand in presidents of Russia, called the Ukrainian Crimea has confirmed that Russia has violated international law.
She stated this during his press conference regarding the election campaign in 2018.
"Ukraine is an important partner of Russia. To restore normal relations – the most important task which today stands in front of Russia, in my opinion. About Crimea – it reminds me of children's games: "And what will prove that the Crimea is ours or not." From the point of view of international law, the Ukrainian Crimea. Point. Next – let's talk, how it will happen, what will happen next, how will life go on people living in the Crimea", – she said.
Besides, Sobchak has confirmed that Russia for its actions in the Crimea and in the Donbass violated the Budapest Memorandum.
"We broke our word, we violated the Budapest Memorandum of 1994. We promised and broke your promise. This is a big problem. Not as a politician but as a woman Ksenia Sobchak can say is to Russia and the Ukraine is now the most important is to restore the friendship at any cost. Point", – she assured.
See also:
"The Kremlin renamed the place of the skull": the Network has ridiculed the intention Sobchak to participate in elections
According to Sobchak, now she is waiting for information concerning political prisoners.
"Names, lists of places of detention of these people, where they were taken, under what article. We know that this problem exists, of course, that must be solved. I expect the Ukrainians of Russian names of people who at the conclusion of the Ukraine. For my campaign it's an important question. How correctly to combine a pardon by Putin to have been Russian prisoners who are in the shadows and not admit that they are war prisoners", – said the candidate in presidents of the Russian Federation.
In addition, Sobchak said that her campaign headquarters was headed by the political scientist and media Manager Igor Malashenko, who conducted the presidential campaign of Boris Yeltsin in 1996, and stood at the origins of NTV, a campaign organization that will meet the political strategist Alexey Sitnikov, to lead the press service of the campaign will be the journalist Ksenia Chudinova, Internet promotion will take the political analyst Vitaly Shklyarov, and over the economic program will work Vladislav Inozemtsev, although Sobchak also remembered economist Andrei Movchan.
Recall, the Russian TV presenter Ksenia Sobchak publicly announced his intentions to run for President of the Russian Federation during elections in 2018 – the corresponding letter was published in the edition "sheets". It Sobchak writes that perfect candidate "against all".
Comments
comments