Saakashvili published an open letter to Poroshenko and urged him to voluntarily resign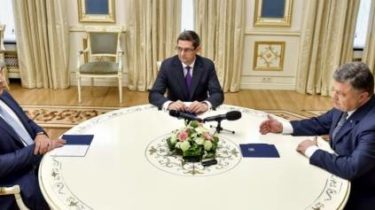 The leader of the "Movement novih forces," Mikheil Saakashvili unveiled a large open letter to the President of Ukraine Petro Poroshenko.
He explained why he wrote the previous letter with a proposal to de-escalate, said that the assault of October Palace was a provocation by the authorities and urged the President to voluntarily resign.
Speaking about the letter which was released today by the press service Poroshenko, Saakashvili said that it was written after consultations with the ambassadors of friendly States. In it he urged the President to start negotiations on the avoidance of destabilizing the situation in the country.
"…in my last letter I suggested You work together to find solutions to the conflict. But instead, You published my personal note to You. I don't mind. There is nothing that I would like to hide. But in doing so You have shown that You have no honor," wrote Saakashvili.
See also:
Saakashvili confirmed the authenticity of the published letter to Poroshenko
Next, the politician accused the government of provocation near the October Palace and admitted that fell for this provocation and will bear for her political responsibility.
"Your provocation was very simple. Someone from Your surroundings misinformed of my colleagues, in the October Palace gave us several rooms to create a coordinating headquarters for the liberation of volunteers-members of the ATO who were detained during protests near the Parliament. I called people to go to our headquarters. Not storm, not something to break or fight. When I saw that in October we are waiting for the security forces, I have made every effort to avoid collisions. And You hoped they would: as it turned out, the National guard was outside of the Palace an hour before our meeting," wrote Saakashvili.
Comments
comments