Military "Venice". Who is to blame for the scandal scuttled Goncharovskiy landfill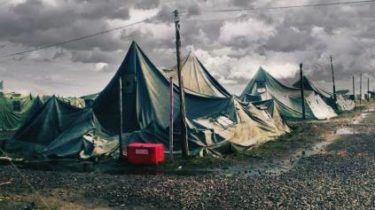 January 31 in the social network Facebook was reported flooded Goncharovskiy landfill in Chernihiv, caused extraordinary excitement in the Network.
Photos and videos flooded army tents published on the page of Marina Anoshkina.
"With bread and salt met 53rd mechanized brigade on Goncharovskiy landfill. […] How can you not respect people? What is this mess? Who gave you the right to so unconscionable to treat our husbands?"wrote Anoshkina.
Videofunny training ground in Chernihiv region sank into the swamp
Network users outraged by the condition of the site that needs to send 53 brigade. Leaky tents are knee-deep in water, and the management of incoming military refused to help and advised to cope on their own.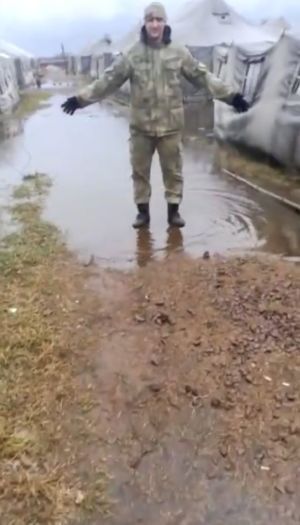 Ukraine
Today, 16:56
Facebook

VKontakte

Google+

One

Twitter

Viber
Social media users responded differently to this publication. Some began to criticize the military leadership, while others – blamed Anashkino in the distribution of fakes.
"The default (Marina Anoshkina – ed.) posts – once a month, extreme Dating back to the 17th. An average of 2-3 likes on the post. Some advertising of some stem cells, some horoscopes, etc… And then, BAM, a post about the army, five hundred reposts. And no commentary. And eyeliner repost on the rear-parquet-snickering, a classic of the genre. And reposts from those who have fished on the injection of fake news from hungry-naked-cast", – wrote Advisor to the President and assistant Secretary of defense Yury Biryukov on his page in Facebook.
See also:
"Killer tanks" will arrive in Ukraine. What you should know about the powerful Javelin
He also noted that the 53 brigade has not yet arrived at the training ground.
"Arrived in camp camp reconnaissance group which has a week to prepare the camp for the arrival of the brigade. It's the few who somehow remembers what the camp team prepares herself brigade. People from the team came to live in barracks, began drying and restoration of the tent camp (which was so in the autumn and naturally abandoned)," – said Biryukov.
This was confirmed by the officer of the General staff of the armed forces Anatoly Stefan.
"Today, Marina will surely be able to get the reward of Garlandia to discredit 53ОМБр in the Network. Congratulations. Except she forgot to add that now/53ОМБр not in Chernihiv, and Dnipropetrovsk. And Goncharovsky departed the band for the reception and training camp," wrote Stefan in Facebook.
Comments
comments